Testimonials
Members share stories with us all the time about how helpful our Karate training has been for them or their child, and how our teachings have had a positive effect on them.  We are quite proud to have had a part in improving each person's life.  Now just imagine what a difference our specialized programs will make in your life, or your child's.  Our programs really work, but don't just take our word for it ….
---
" Ellie's a great kid, but sometimes her own worst critic, is always saying she "sucks" at this subject or that but in fact she's really a great student! We're so lucky to have come across a fantastic karate school that has nurtured her over the past 3 and a half years and has contributed to her maturity and confidence as well as her skill level in this great sport.  We're so very grateful. "
- Liz Tektonopoulos
---
" Francesco is enjoying karate and has found something that he loves, both challenging and fun.  It has made Francesco much more confident and focused in everything he does. Karate has taught him that in order to succeed you must be committed and try your best, not only in karate but also in everyday life.  He loves how he is challenged within every lesson, and is motivated to push himself further in order to succeed and improve his skills. The intense training has helped Francesco maintain and improve his fitness level. Overall, Francesco is loving his experience in karate with Sensei Con and Sensei Rosanna. "
- Theresa Paladino
---
" Karate has had a great impact in my life.  I have now more confidence in myself.  Last year, along with 5 other students I had the opportunity to travel to Japan and train with our Grand Master Mabuni Sensei.  What an experience that was.  Something I will never forget!   Kassis Karate Academy has a unique approach in teaching.  The classes are informative, disciplined, challenging and fun.  Sensei Con & Sensei Rosanna have a great team of instructors and are a great influence.  Sensei Con has an extensive amount of knowledge and experience in developing his students as individuals. "
- Saveria Verga-Dimarco
---
" We are pleased to see how much Steven has learnt in his karate.  I really think he is learning a great deal of discipline and self control.  Steven really enjoys his instructors and learning a great deal. "
- Melissa and Gavin Crooks
---
"I enrolled my Son in karate lessons 2 years ago to boost his confidence.  Since then however, the benefits have kept coming.  He is now not only a very confident young man, he is also happy, well balanced and gets to enjoy a level of fitness in a safe environment."
  - Allyson & Thomas Fletcher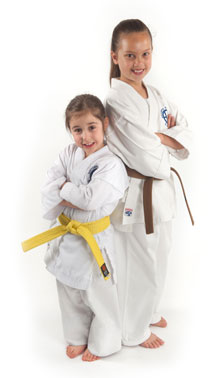 Give yourself or your child the opportunity to learn self defense, to build courage, confidence, strength, speed, co-ordination and mental awareness.
The ultimate aim of Karate is the perfection of one's charater through committed training and the strict disciplining of the mind and body.
Karate practice will help you in all aspects of life.